North of Arequipa, Colca is twice as deep as the Grand Canyon. The Colca Valley is an incredible natural environment.
Yes, I admit it. Hiking in Colca Canyon was my idea.
Pretty much every tour company in Arequipa offer tours to Colca Canyon. You have the choice of day tours, where you barely get off the bus, overnight tours, where you get off the bus to sleep in a hotel, or a bunch of guided treks.
I hate the idea of being shepherded: 'you have 20 mins to swim here', 'you will eat at this restaurant', 'you will buy curios from this lady'. Sitting with a group of strangers taking photos through bus windows, coupled with my tendency for motion sickness, it wasn't a tempting option. In addition, each of these tours were hugely expensive. I refused to accept that the only way to visit Colca was on a guided tour.
This is where ingenuity came in handy. There is a public bus that leaves in the middle of the night from the bus station, known to be a dangerous spot even in the daylight, and we'd have to catch a taxi there. Plus, it's a winding road through mountains, and the memory of my last vomitastic hilly bus ride was still fresh.
Instead, I found the website for Pachamama, a hostel in Cabanaconde, a small town in the Canyon. Their website has heaps of information on DIY trips to Colca. Its actually really easy, and you get something different to the packaged tours.
Pachamama also offer a tourist bus to Cabanaconde. it collected us from our hostal at 3am. My motion sickness is better when I can see where I'm going, so I asked to sit up front; Michael was told he had to share the bench seat with me and the driver. Everyone else in the minibus nodded off, not me. I could see what was happening on the road; I wanted to see my death coming. The Peruvian driving style is hard to get used to. Overtaking occurs on double lines, on blind corners, even when the cars in front are blocking the view because they're overtaking too. There were a few times when even our driver shook his head at the antics and near misses of other cars, that's saying something.
Michael: we saw a tiko nearly get squashed between two semis. Perhaps ignorance is bliss.
The driver and guide chatted to each other for about 2 hours, mainly discussing the joys of chasing skirt,  before I let them know that I could understand everything they were saying. The topic of conversation sure changed after that.
At a simple breakfast stop in Chavay 3-4 hours later, we spoke to the other 10 travellers aboard. All were taking guided hiking tours and were shocked to hear that we were only using the bus service.
A pleasant bonus of taking the tourist bus, was the scheduled stop at a viewing platform known as Cruz del Condor. The canyon was deep, the mountains vast, but that's not why the place was busy. Condors!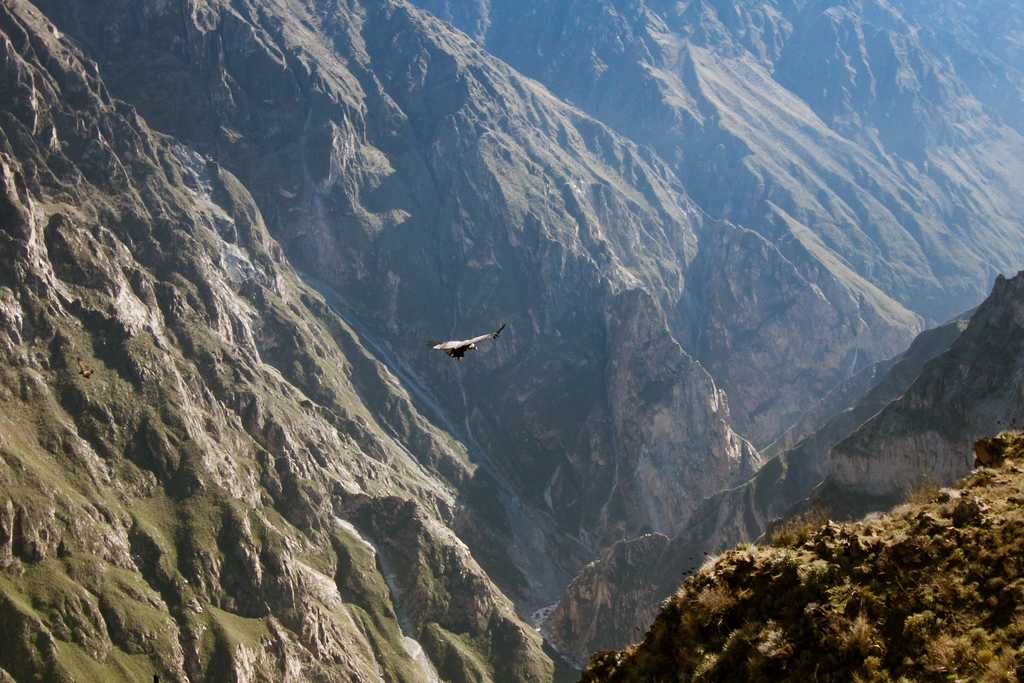 The huge birds love flying over this specific patch of rock every morning. There must be some awesome currents because the condors never seemed to need to flap their wings, they looked more like paragliders. Turns out though, in spite of stories of the great Andean condor, they're bloody ugly things. Part of the vulture family. They just reminded me of movies where someone starving in the desert is being stalked by a couple of over-eager vultures.
We arrived in Cabanaconde at about 9:30 am, kinda lost and not sure what to do. We knew it was too soon for lunch, but that we'd be marching on an empty stomach if we left straight away.  So, we had breakfast #2 at Pachamama; crepes and scrambled eggs. They also offered to store our main packs while we hiked. And that was it, we bought a few litres of water, put on our day packs, and took the second right out of town.
Our plan was to hike down from Cabanaconde to the bottom of the canyon. An 8km trek, people say 1-2 hours to get down. We did it in 4, stopping frequently for drinks and photos.
At the bottom of the canyon is Callale, a village of maybe 4 or 5 homes, dubbed the oasis.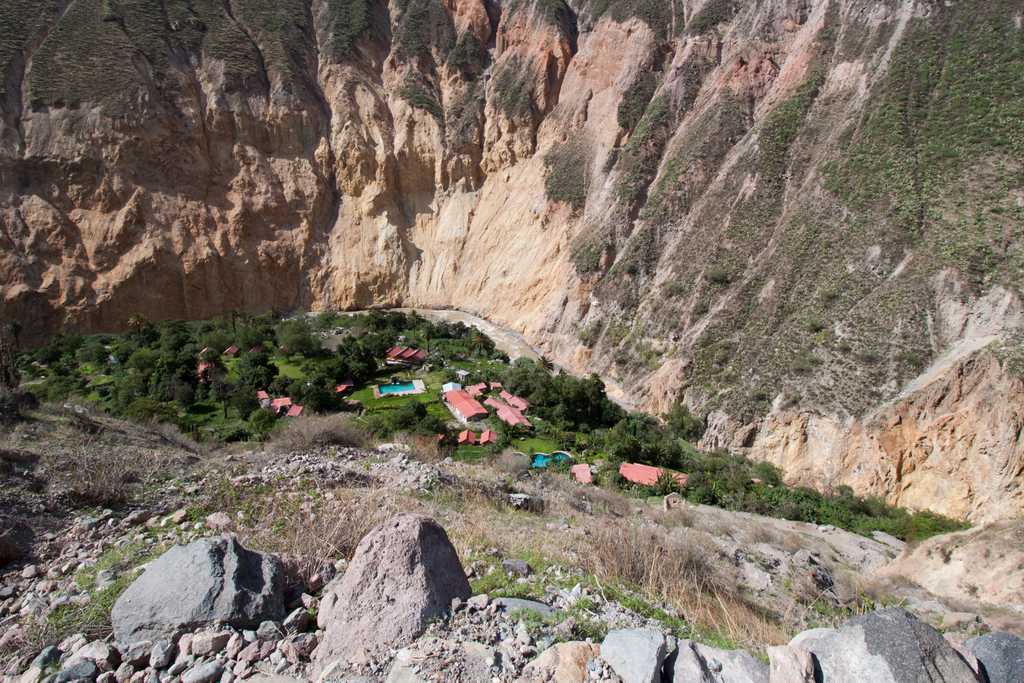 The ingeneous farmers, after losing crops to disease, built swimming pools and simple accommodation for idiots like us.
Michael: The longneck of Arequepeña beer and swim in the pool was the perfect celebration after a hike in the midday sun.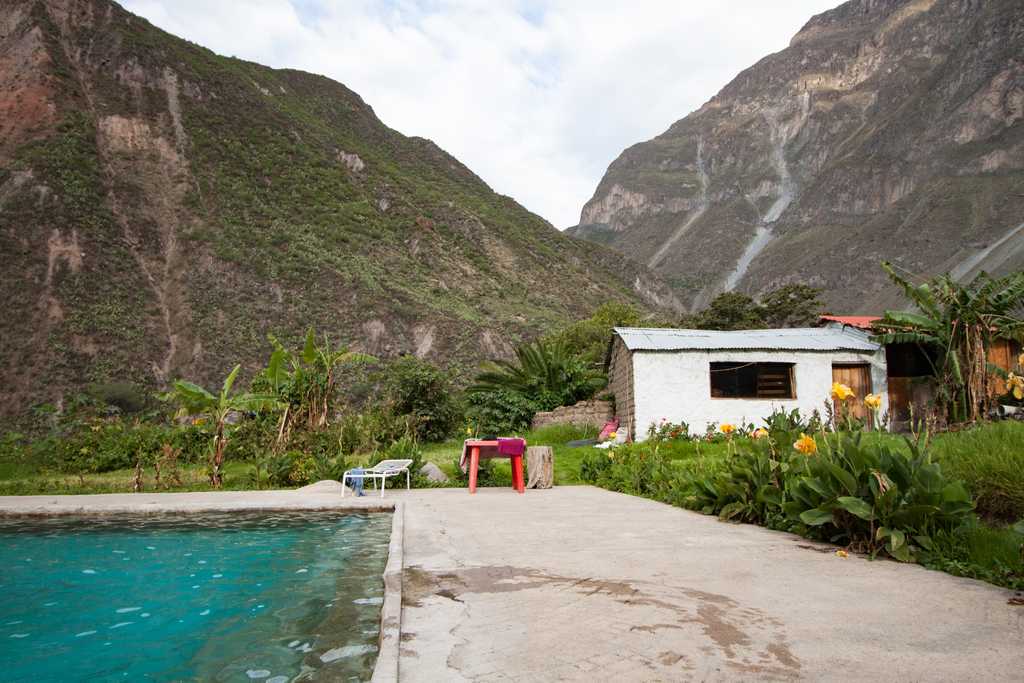 We spent the night in the oasis, in the home of a very friendly and humble man, who seemed genuinely grateful to be able to share a bit of his world with us.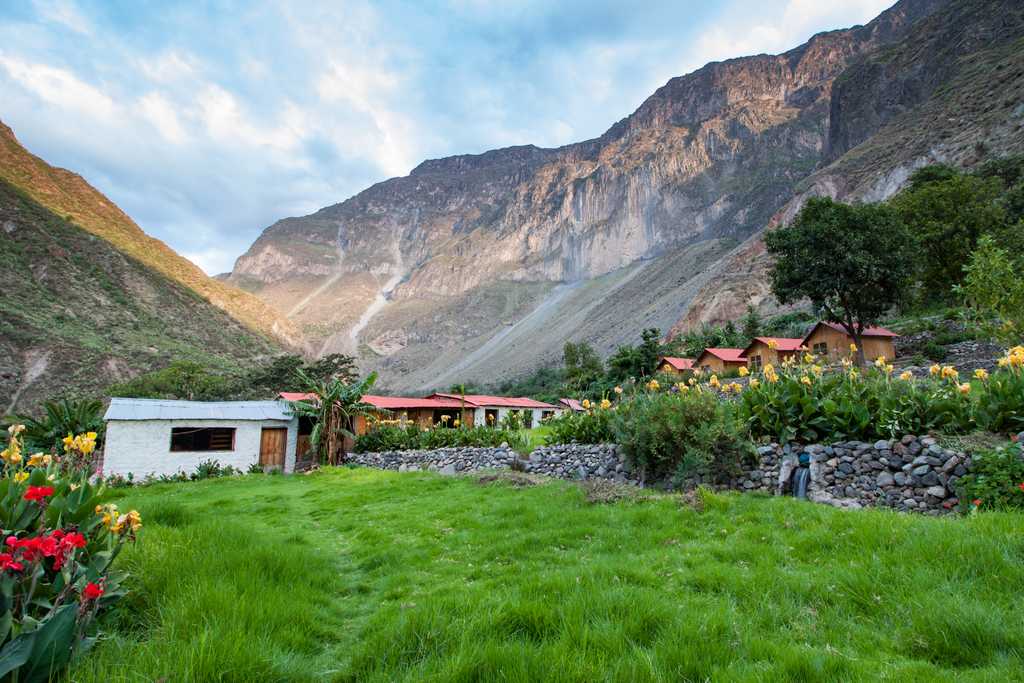 Guide books will tell you that everything is expensive in the Canyon. However, a bed was only s/15, a longneck of beer was s/10, as was water. But everything is brought in by donkey, what do you expect?
We got up early for the journey back up to Cabanaconde. This is where "twice as deep as the Grand Canyon" comes into play. While it is only a 7.8km walk, there is a 1400m change in elevation.
Michael: The walk back up was fucking hard, and at 3600m above sea level, we were constantly short of breath.
That, or the view was breathtaking! (get it?)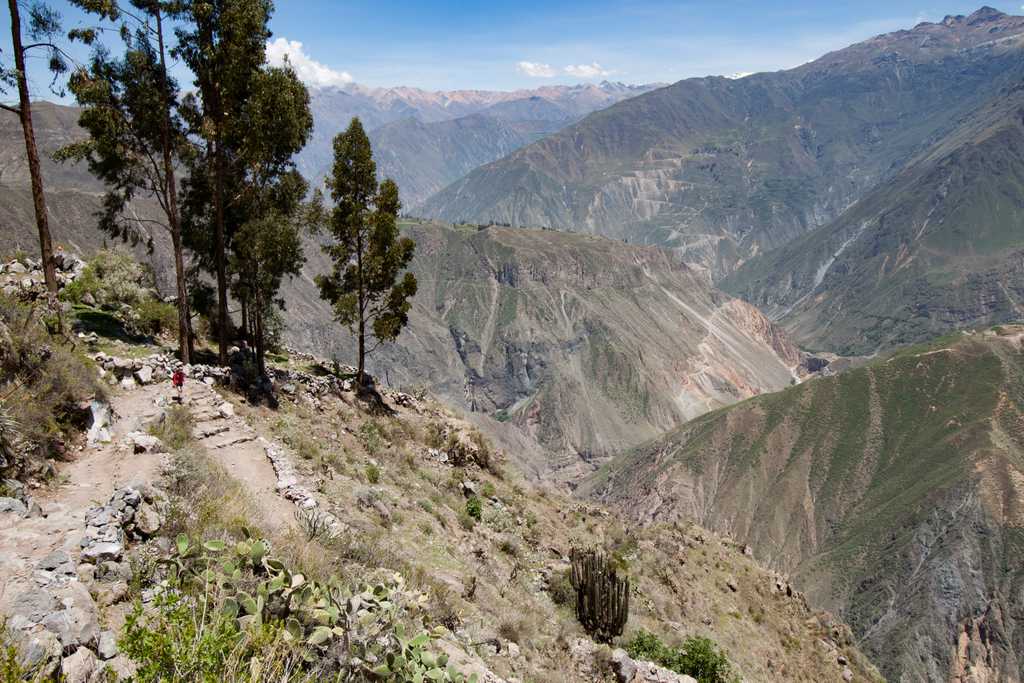 The path levels out as you near the top. We took a wrong turn and found ourselves wandering through terraced cornfields. A woman, surprised to see us in her crops, gave us directions.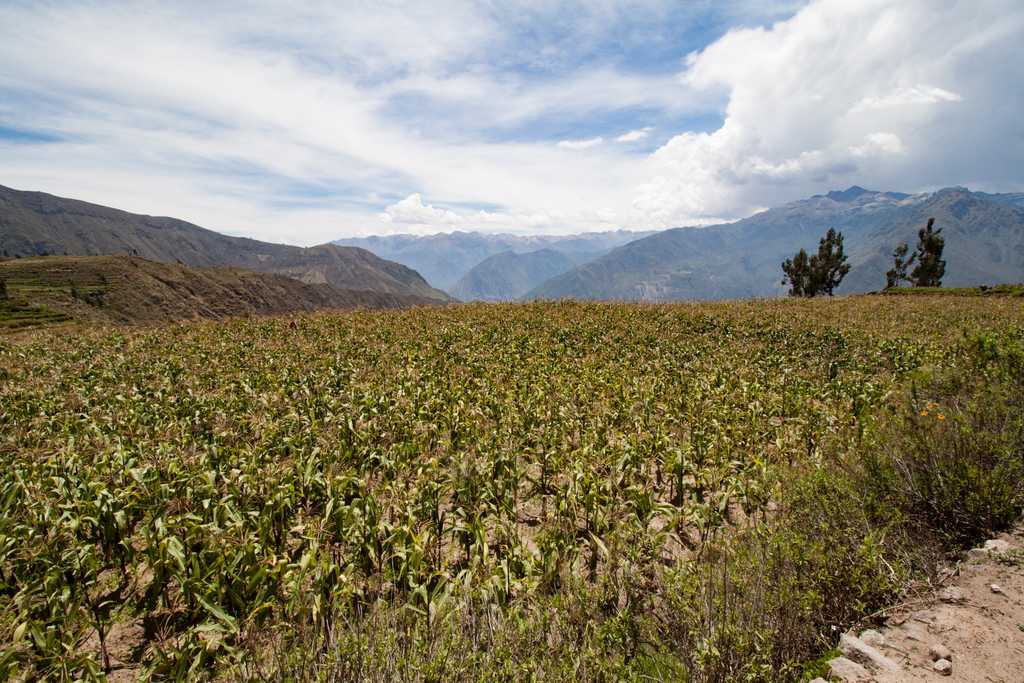 As we were walkng towards the road a dog came charging at us and bit Michael on the leg.
Michael: Its ok. No broken skin, no rabies.
We caught the local bus from Cabanaconde back to Chavay, just as rain set in.
The bus meandered across the canyon, picking up and dropping off local farmers. A dog brushed passed my legs as it wandered up and down the bus, under the seats.
Michael: The bus itself reminded me of the ones I took from Pt Vincent to Adelaide in the 90s, but still in service. Rattly and crowded, this bus had seen some things.
Chavay is quite a quaint little town. There was a bit of a street market off the main square, and plenty of accommodation. Just ask to see the room first. The first place we stopped we were led up a collapsing staircase to a series of dark, windowless rooms. One, the door handle was broken in such a way that the door could only be opened from outside the room. The second had no latch on the door at all.
The next place was perfectly fine.
We had dinner in a restaurant where we were the only customers. This seemed strange, given the number of tourists in the canyon at any one time, but then the tours are allocated a restaurant to eat in.
We got up early to head to Cusco on the 4M Express!