Capachica is a quiet, scenic peninsula to the Northeast of Puno with next to no international tourism… except us.
The mini bus from Puno was easy to find, we hopped in a taxi and asked him to drop us at the bus 'station' for Capachica. We were taken to a random intersection near the water, a row of minivans were parked in the street. The driver loaded our bags on the roof rack and we waited for more passengers to arrive.
The buses don't have a schedule, they leave when full.
Once on the road, it was quite a pleasant journey. Beautiful flowing green and brown hills interspersed with small fields of brightly coloured quinua crops. A campesina sitting next to me spent the trip knitting and eating fruit. She found it hilarious that I didn't quite know where we were going or what to do once we got there.
The bus stopped along the way to drop off people at their middle of nowhere homes and pick up people from the side of the road, though I couldn't see where they'd walked from. We hopped off the bus at the final stop, the town of Capachica. All remaining passengers promptly jumped into taxis and wizzed away. Michael and I stood there, unsure what to do. There were street vendors selling everything from soft drinks to hot chicken lunch.
I decided that the first thing to do was buy a slice of watermelon.
While eating, a mototaxi driver asked if we were going to the bay, Chifrón, like it was obviously our only destination. We took his advice and paid him a few soles to take us there. He dropped us off at the boat dock, like that was obvious too. A skipper offered to take us to Amantani… a place I'd never heard of. "Whoa, hold on", I thought, "we just arrived, we should see or do something here first."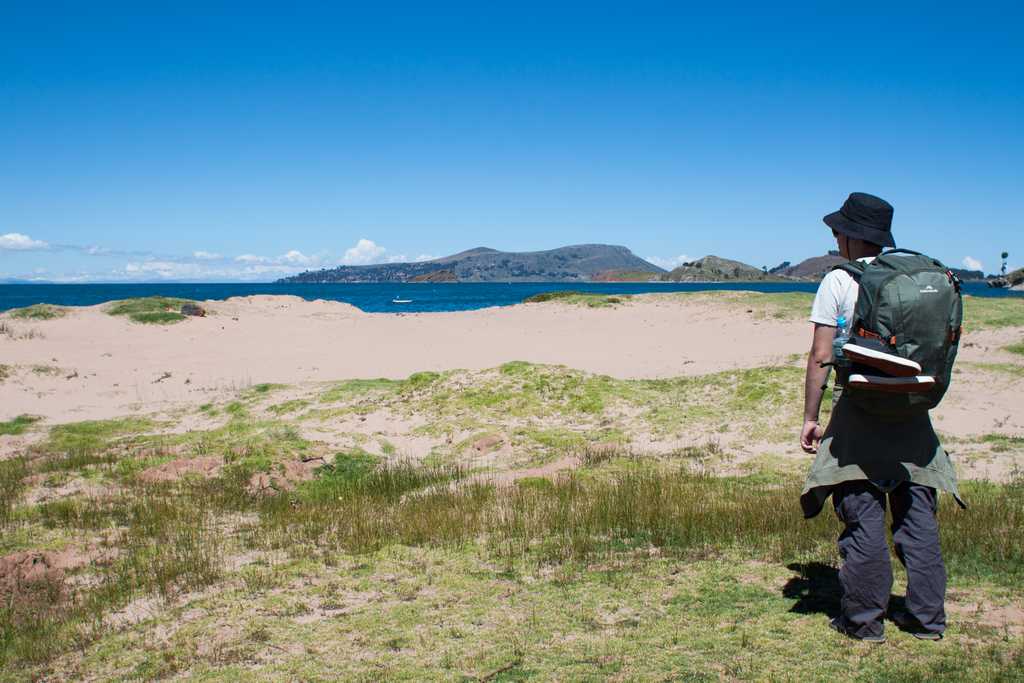 So, with our full packs and dressed in jeans and sneakers, we walked over to the beach. And sat. A group of teenage boys had ridden pushbikes from the town and were cooling down, wrestling in the water, and diving off a knee deep pontoon. Two teenage couples brought a pop up tent for shade and played volleyball in the shallows. Other than that, the bay was ours. Oh, and the dump truck and excavator digging out a cliff at the boat dock end.
Chifrón would be an idealic beach except for a few small issues. It is a bay on Lake Titicaca, altitude 3,812 metres; the water is freezing. And it seems that the average Peruvian hasn't caught the eco-friendly bug. The beach and water are filled with rubbish; plastic bottles, food wrappers, glass. I have developed the idea that everyone thinks that it is someone else's job to clean up after them. I could have spent a few hours filling garbage bags with rubbish and dead birds, except there was no skip to put it in. And it would be back to its original state within a few days.
So, we sat on a towel on the beach for a few hours, until we got hungry. Problem. There are no shops in Chifrón, just a couple small houses. Everyone else at the beach had brought their own transport. There were no taxis sitting around waiting for us. On went our packs, and we started back up the dirt track to Capachica.
For the first time, we actually felt like backpackers. The landscape was beautiful, which made the walk not seem so bad. Even so, I did hail the first taxi to pass; by then it was less than 1k to the town.
We walked a lap of the main square and the main street. It took 2 mins. We ate at the best place in town, a scarily cheap set menu restaurant, where I confused the owner by asking shock what the options for main course were (silly me). From this judgement of Capachica, and with help of our trusty guidebook, we concluded that the mototaxi and skipper were right; Amantani is the place to be.